melbourne
endured its coldest four-day stay for this end of November in 167 years of weather records, while
Canberra
also experienced an exceptional cold snap.
Temperatures in Melbourne have remained below 15.5C for the past four days – Friday to Monday – with an average high of just 14.4C.
The four-day stint is the coldest period on record for this end of the year, Weatherzone senior meteorologist Brett Dutschke said.
The Bureau of Meteorology said today was the coldest November day since 2006, with the temperature in Melbourne reaching just 13.5C.
Melbourne's average high temperature so far this month is 19.2C, compared to the usual November average of 22C.
Victoria has had a cold and windy spell, with 80 mph winds recorded in Wilsons Headland at 11:08 p.m. Sunday and heavy rain across the state last week.
Canberra is also experiencing its coldest time to end the year in 99 years of records, according to Weatherzone, with the city recording no more than 14C in the past three days.
Meanwhile, snow is falling in the Australian Alps just two weeks before summer.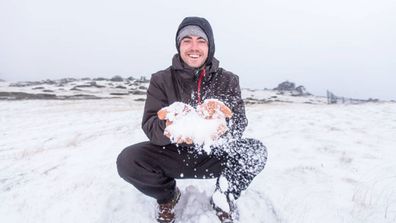 Cold snap brings snow to NSW, Tasmania
Snowfall over the Alps amounted to 15 to 30 cm.
A small amount of snow fell to around 800 meters in southern New South Wales and Victoria and around 200 meters in Tasmania.